More of Cee's Penny Rugs
I wonder how I took that photo...
This is a very traditional layout seen
in many antique rugs.
I will show you in class how this rug can be made
to look completely different
with just the placement of the colours.
Same size pennies but in another
layout which I seldom see in
an antique rug.
Close up of the pennies
They are not all round
I like this look
Thread used is ordinary butcher string
The back or base of the above rug
No lining so the stitches show
I will show in class how to do
this simple finish with
half pennies showing...very easy to do.
I had a terrible time dyeing string
for this rug..it was some time ago
but I think it was dyed string.
The base was an old burlap bag
Burlap is not my first choice
It takes patience to stitch
on burlap
This was many years ago and
only my second penny rug
I stitched.
Needless to say I hate it but
I sold many kits of this rug.
I don't remember the name of this one
Early on I loved to find
old fashioned names
for my rugs and pennies.
I wanted to show these new rugs
The dark coin penny rug has
an unusual layout
This is an antique rug possibly
made in Nova Scotia
Check this layout against my rug
in the first photo
It's all in the colours
and the placement of pennies
Same shape rug but
this rug is much like a
'hit and miss' rug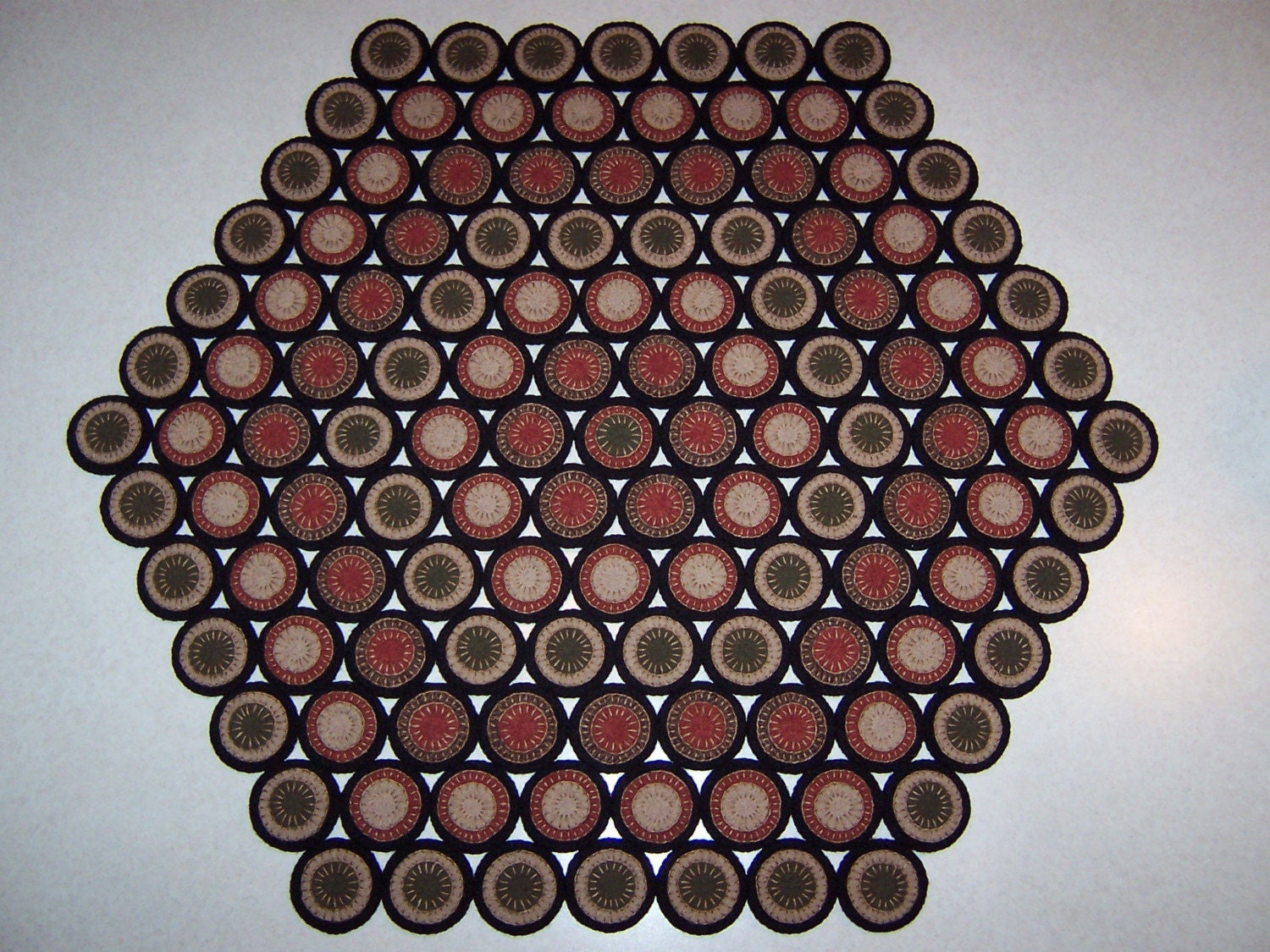 Isn't this beautiful!
No base or backing and
it's a kit!
This is my dear friend
Colleen's rug.
I hope you enjoyed the photos
I have one more
This week I hope to post a
step by step, never fail
way to dye wool and whatever
with onion skins.
Save your onion skins!
I also have a great link for you.
Make sure you watch
these wonderful tutorial videos
from the first to the last
in sequence.
They are THE BEST you will find
on the web!
Colleen and I have been friends forever..
not 'really' forever but back when
I was just starting to make rugs.
We have the kind of friendship that
never ends.
I admit the guilt of not keeping in
touch with my wonderful friends
these past years.
Years? gosh I hate to write that word
but it is true.
I somehow lost my way and wasn't
the person or the rugmaker
that is cee.
But cee is back!
My wonderful friends are there
for me as if only yesterday
was my last contact.
Lady Moths
with tears in my eyes I
Thank you
from the bottom of
my heart!
Updates:
I am working on solving the
'follow by email'
that doesn't seem to work.
Until then you can email me
if you have questions or whatever.
This link will be here for only
a short time as it is
an open invitation for
spam in my inbox.
I hope to post details of the
penny rug classes
soon...
Thank you everyone for
following or visiting
with me.
Until tomorrow...
well ...
possibly
Wednesday?