Where does time go?
It seems to sneak away from me
It is Monday and then Friday
I should be having photos of my
Christmas Stocking Kits
but I just could not let this piece
go to my best friend in BC
without first doing up a few kits
and a pattern
I am so very blessed to have Colleen
as my friend
Her'goodie box' of wool and trinkets
is way overdue but she now knows me
well and knows her patience will be
rewarded when she finds the nice
woolie things I will send.
This is my original pattern adapted from
an antique hooked rug many years ago.
It was to become my fourth published pattern
but of course another creative idea
came along and it was put aside.
I happened on the drafted pattern when
I was looking for my stockings patterns
and so I thought I would offer a
few kits of this
Colonial Basket Applique
It started with a few kits from the
original blanket used in my piece.
More requests came in and so I have
another great old blanket for a base,
the same shade but in a nice texture.
The photo is not great
but you can see
the weave and weight.
The kits are now on Etsy
Most pieces are pre cut with the exception of
the leaves, buds and stems.
Little pieces tend to become lost and these
pieces are the last to be stitched to the base.
I have used freezer paper to mark the patterns
so you will need to cut stems, leaves and
buds before you stitch.
The remainder is cut..labeled and a full size
tissue paper placement chart is included.
More information is on my
Etsy listing by clicking the link below
This will be available as a pattern
sometime in the new year.
Along with three of my other designs
My folky Family Sampler Rug
This will be adapted and used
in my new
Christmas Stockings Kits
This design with be sold as a
pattern only and not a kit
My Menagerie Rug
Another adapted from an
antique hooked rug.
As you can see from the photo
this is a large rug and
could be used for both
applique and rug hooking
Finally my
Roosters at Sunrise Rug
Also another larger rug
for both
rug hooking and applique
These will be offered as patterns once
I have finished with the
Christmas Stockings Kit
and now..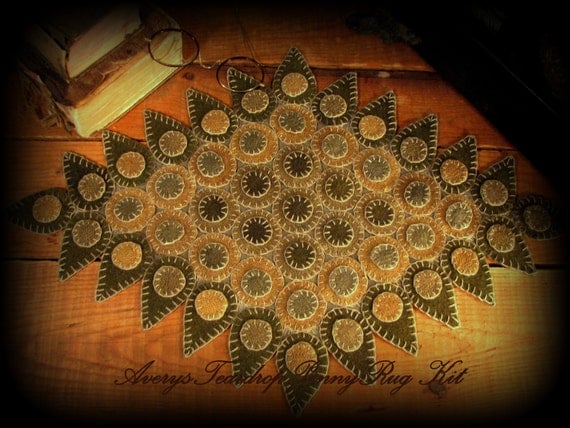 The Avery Rugs
I enjoyed designing these rugs
dedicated to my
Grandson Avery
but
the time has come to retire both the
Averys Teardrop and
Averys Favourite
I will leave the listing over
the weekend and then
no more of these designs
Thank you Everyone
who has purchased and
stitched
Averys Rugs.
THE CHRISTMAS STOCKINGS
ARE NEXT
stay tuned.. here on the blog
or on my facebook page
or with my mailing list
added to my list
Thank you everyone and have a
very spooky but safe
Hallowe'en Eve
cee